Detailed Company Information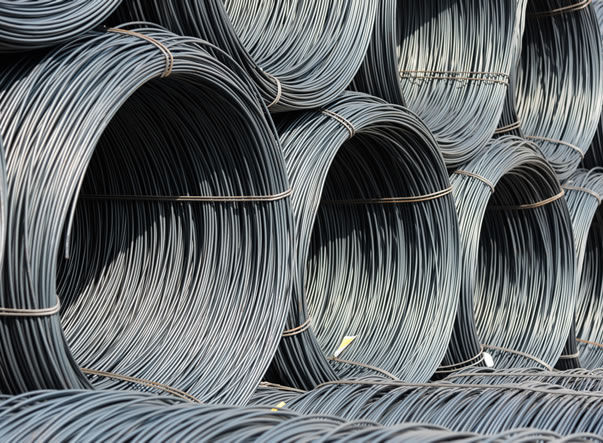 SeAH Special Steel
The price of steel has risen due to environmental regulations in China over the past few years and there has been a rapid increase in demand due to the favorable exporting conditions in the automobile industry making it more and more difficult to purchase materials for small and medium sized manufacturers. Yamakawa procures base materials from Korean POSCO and materials which have undergone primary processing from SeAH Special Steel through our own unique trading routes.

Features of Our Services
01

Cost reduction and shorter delivery time due to procuring Korean materials

02

Quality assurance with the top Korean materials manufacturers and primary processing manufacturers

03

Smooth delivery process due to our abundant experience in importing
CHQ WIREproduction range:2mm-42mm
Processes

R

Wire Rod

P

Pickling

PC

Pickling + Coating

D

Drawing

A

Annealing

HD

Hard Drawn

S.A.I.P

Spheroidized Annealed in Process

S.A.ROD

Spheroidized Annealed Rod

S.A.F

Spheroidized Annealed at Finished Size
Technical Data
Application
Material
Wire Drawer Process
AISI/SAE
JIS
Wood Screw
Machine Screw(Siotted)
1008 -1010R
CH8A,CH10A
HD
AIP
Wood Screw(+)
1008 -1010R
CH8A,CH10A
SAIP,AIP
Machine Screw(+)
1008 -1012AI
1010R
CH8A,CH10A,CH12A
SAIP,AIP
HD
Tapping Screw(+)
1015-1016AI
1018-1022R
CH18A,CH22A
SAIP
AIP
Tubular Rivet
1006AI
1006R
CH6A
SAIP
Tubular Rivet(Drilled)
1006AI
1006R
CH6A
HD
Bolt(Automobile)
1045
4135
CH45K
SCM435
SAIP
Nut
1008 -1015R
1108 - 1110
CH8A,CH10A,CH22A
HD
1023 -1025AI
1023 -1025SI
CH25K
SAIP
1035 - 1045
4135 - 4140
5135 - 5140
CH25K,CH45K
SCM435,SCM440
SCr440
SAIP
Steel Ball
1010 -1020AI
1010 -1020SI
CH10A,CH18A
CH12A
SAIP
1010 -1015R
5115 - 5120
4115 - 4120
52100
CH10A,CH12A
SCr415,420
SCM415,420
SUJ2
HD
SAIP
SAIP
Socket Screw
4037 - 4042
4035 - 4140
SCM435,440
SAIP
Ball Joint Stud
5115 - 5120
4115 - 4120
SCr415,420
SCM415,420
SAIP
5135 - 5140
4135 - 4140
SCr440
SCM435,440
Piston Pin
5015 - 5020
5115 - 5120
4115 - 4120
SCr415,420
SCM415,420
SAIP
Special Application
(Difficult Cold Forming)
Special Application
(Machine and Cold Forming)
Low-Silicon or Aluminium
Killed Steel Rimmed or Free Cutting Steel
SAIP
AIP
HD,SAIP
CD BARproduction range:3mm-42mm
Technical Data
CD Bar
Category
AISI(SAE)
JIS
Usage
Carbon steel
1010~1060, 10B38
CH6A~CH45K, S25C, S35C, S45C, S50C, POSMA45R
Motor Shaft / Various kinds of shafts / Piston
Rods / RACK Bars (for the steering area)
Manganese steel
1541
SMn443
Axle Shaft
Chrome steel
5115, 5120
SCr415, SCr420
Various kinds of shafts and parts
Chrome-molybdenum steel
4115, 4135, 4140
SCM415, SCM435, SCM440
Various kinds of shafts and parts
Bearing steel
52100
SUJ2
Bearing, Liner Motion Shaft, Wrench Set
Free machining steel
1213, 12L14
SUM22, SUM24L
O.A. shafts / Sleeve shafts / Electronics, braking systems
STS Bar
Category
Standard
Usage
KS
JIS
ASTM
DIN
Austenite family
303
SUS303
SUS303C
SUS303
SUS303C
TP303
1.4305
Materials for O.A. shafts (printers, copiers),
nuts, bolts and brushing automotive
304
SUS304
SUS304L
SUS304HC
SUS304M
SUS304
SUS304L
SUS304HC
SUS304M
TP304
TP304l
304/304l
1.4031
1.4306
Materials for nuts and bolts for construction
materials and ladders, tableware,
and automotive parts
316
SUS316
SUS316L
SUS316
SUS316L
TP316
TP316l
316/316l
1.4401
1.4404
Medical supplies, coastal building exterior
decoration, chemical industry systems,
paper-making industry
Martensite family
410
STS410
SUS410
TP410
1.4006
For motor shafts, bolts, nuts and annealing
416
STS416
SUS416
TP416
Materials for automotive parts and electronics
420
STS420J1
STS420J2
STS420F
SUS420J1
SUS420J2
SUS420F
1.4119
1.4021
Various kinds of shafts, medical devices,
springs, tableware, knives, pins
Ferrite family
430
STS430
STS430F
SUS430
SUS430F
1.4104
Automotive parts, electronic parts
for various kinds of tanks, rivets
Standard Work Flow
01

Confirming specifications We will ask you about information such as type of steel, standards, surface treatment and current mill test report.

02

Estimate and contract We will submit a Korean materials estimate as well as exchange a basic contract and specifications.

03

Submitting a sample We start with a small sample and carry out assessments over and over until we can provide a secure level of quality.
FAQs
Q

Do you have experience selling in Japan.

A

Yes, we do. In addition to large Japanese chain manufacturers, Yamanaka has experience selling to large Japanese bearing and shaft manufacturers using the same unique route as the Korean manufacturers.
Q

What are the materials you mainly handle used for?

A

We mainly handle special steel for items such as springs, bolts, shafts and bearings but we also deal with many other different items. Please inquire for more details.
Q

How are the materials delivered?

A

We can handle just-in-time inventory management as well as delivery by container based on the client's request.